We now have a number of clients in The Pacific Islands and Papua New Guinea (PNG). We also have a number of Ostendo Consultants who like to support these clients, in fact anywhere in the Pacific. Are you wondering why?
Our Ostendo Consulting Partners support businesses like yours in Fiji, New Caledonia, Vanuatu and Papua New Guinea to name a few. The clients are primarily in the manufacturing, mining and service industries.
It doesn't matter what version of MYOB, QuickBooks or sage Pastel you are using, whether you purchased an Australian product or a copy from New Zealand, we have resellers from New Zealand and Australia who want to assist you.
BIZINFO Ltd
---
Industries Serviced:
Manufacturers
Service
Contractors
Distributors
Retailers
PO Box 87457
Meadowbank
Auckland
New Zealand
Phone: +64 21 543 045
Fax: +64 9 522 0577
Mobile: +64 21 543 045
Email: ian@biz-info.co.nz  
Website: http://www.biz-info.co.nz
Contact: Ian Flynn
Client Count:
25 - 50
Users Count:
100 - 250
BIZINFO have extensive experience in Operational and Accounting software implementation.
We will provide you with independent assistance from reviewing software to selecting the most appropriate software for your organization. BIZINFO have been successfully implementing Operational and Accounting software since 2002 from single to 20+ user sites (References available on request).
We are experts in Ostendo operational software as well as the integration to MYOB and QuickBooks. Our services include:
Demonstration of Ostendo software
Implementation (operational and accounting integration)
Data conversion
Training
Customisation
Report writing
Custom scripting
Your support Partner
Epitome Software Pty Ltd
---
Industries Serviced:
Manufacturers
Service
Contractors
Distributors
Retailers
Other Services:
Level 1, 16D Ashwin Parade
Torrensville SA 5031
South Australia
Phone:
+61 8 8238 0400
Fax:
+61 8 8152 0871
Mobile Miles: +61 412 734 284
Mobile Kelly: +61 488 557 540
Email: miles@epitome.com.au
Email: kelly@epitome.com.au
Website: www.epitome.com.au
Contact: Miles Nicholl and Mr Kelly Thredgold
Client Count:
100 - 250
Users Count:
500 - 1000
Epitome Software is an approved Centre of Excellence for Ostendo. We support every state in Australia as well as overseas. We develop and supply vertical market solutions for a large range of businesses and have a dedicated sales force, dedicated consultants, developers and support desk. Epitome has developed a unique range of helps to make Ostendo easy to learn and deploy. We focus on ease of training, ease of use and the supply of functionality that streamlines business processes and reduces cost and waste. Our size and experience enables us to deploy Ostendo in larger companies as well as in the smallest.
ABC Business Solutions
---
Industries Serviced:
Manufacturers
Service
Contractors
Distributors
Retailers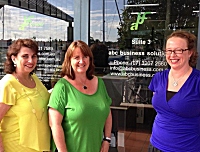 Suite 3, 20 Masthead Drive, Raby Bay
PO Box 1748
Cleveland DC QLD 4163
Australia
Phone: 1300 533 361 
Fax: +61 7 3822 3155
Mobile Carol: +61 411 781 956
Email: carol@abcbusiness.com.au
Email: info@abcbusiness.com.au
Website: www.abcbusiness.com.au
Contact: Carol Roberts
Client Count:
 50 - 100
Users Count:
 250 - 500
ABC Business Solutions project manages your customised Ostendo solution with Xero or MoneyWorks. We have a team that includes:-
Qualified Accountants
SQL Developers
BAS Agents
Experienced Trainers
With ABC Business Solutions you have Project Management that can include Business Development and CFO Services. Our team of Developers is run by a qualified Engineer.
ABC Business Solutions provides both skill and experience for a full ERP Solution, for small businesses or medium businesses requiring 30 plus users.
Our Ostendo solutions fulfil all the KPIs, Operational and Accounting requirements in the following industries;
Manufacturing
Trades and job costing
Professional Service Industries such as Engineering and Architects, and
Retail Shops
ABC Business Solutions can provide on-site training and support in NT, QLD, NSW and WA, and remote solutions via Terminal Server anywhere in Australia. ABC also supports clients in Papua New Guinea (PNG) and the Pacific Islands.
ABC Business Solutions has been installing Ostendo Solutions for 9 years.  From our beginnings in DOS Systems, and early Windows Systems, to 2014, there are 3000 businesses now running our solutions.
We provide FREE demonstrations via Web Meeting Software.